Landmark Dodge Chrysler Jeep RAM Blog - Landmark Dodge
Not Your Typical Mini Van: Black Trim + Chrysler Pacifica S Package
Tuesday, October 17, 2017
For decades, minivans were not really thought of as stealth or aggressive, but now it's time to think again: Chrysler is now offering the S Appearance Package on the Touring Plus, Touring L, Touring L Plus, and Limited models. For just around $600, you can really "up the black" factor with a number of trim pieces, and for an extra $995, you can cap it off with a set of 20-inch wheels in black. You'll acquire the tough, steel-like appearance of a stealth agent by adding extra black to the grille, headlight accents, and rear valance molding. The Chrysler wing badges are black, as well as the "Pacifica" and "S" badges. 18-inch black alloy wheels are included, along with a black roof rack on every trim besides Touring Plus.
Once inside, it's not just black within your eyesight. Light gray accents are present on the instrument panel and steering wheel, as well as on the seats. The overhead console, headliner, visors, light bezels, pillar trim, center console, and seats are black as well. You'll also be able to enjoy 4G LTE wi-fi hotspot, and many great hours on the road with a vehicle that has earned praise from entities such as Daily News Autos, which named last year's model as the pick for overall best minivan. Just like the appearance of a tie or stealth new purse at a social function, we appreciate how black can quickly change the mood of any vehicle, and this package ups the ante and appeal quite a bit for the Pacifica.
A great choice for any busy Atlanta professional or full-fledged family, the Pacifica has a quiet, well-built cabin filled with quality materials, and boasts a very long list of standard and available features. Even over the roughest pavement, the Pacifica navigates well, with above-average acceleration, and fuel economy that is better than many competitors. This vehicle that Car and Driver deemed "better than the average crossover in a number of measurable ways" really is an awesome staple of the American driving culture. What really separates the Pacifica from many of the other options out there in the minivan sphere is its infotainment system and optional plug-in hybrid powertrain.
Truly a prime example of what can happen when the best and brightest collide in the engineering category, this the product of those who ingeniously wanted a "long live the minivan" sentiment to grow to epic proportions. What has been called the "world's cleverest stowable-seating system" will be sure to meet your needs during either a haul to Hartsfield Airport or trek to Tallulah Gorge State Park, as you won't have to be scrambling constantly to find extra room. Come pay us a visit and see how the vehicle that even boasts a built-in vacuum cleaner measures up, and gets ready to introduce the Pacifica into your 2018 escapades!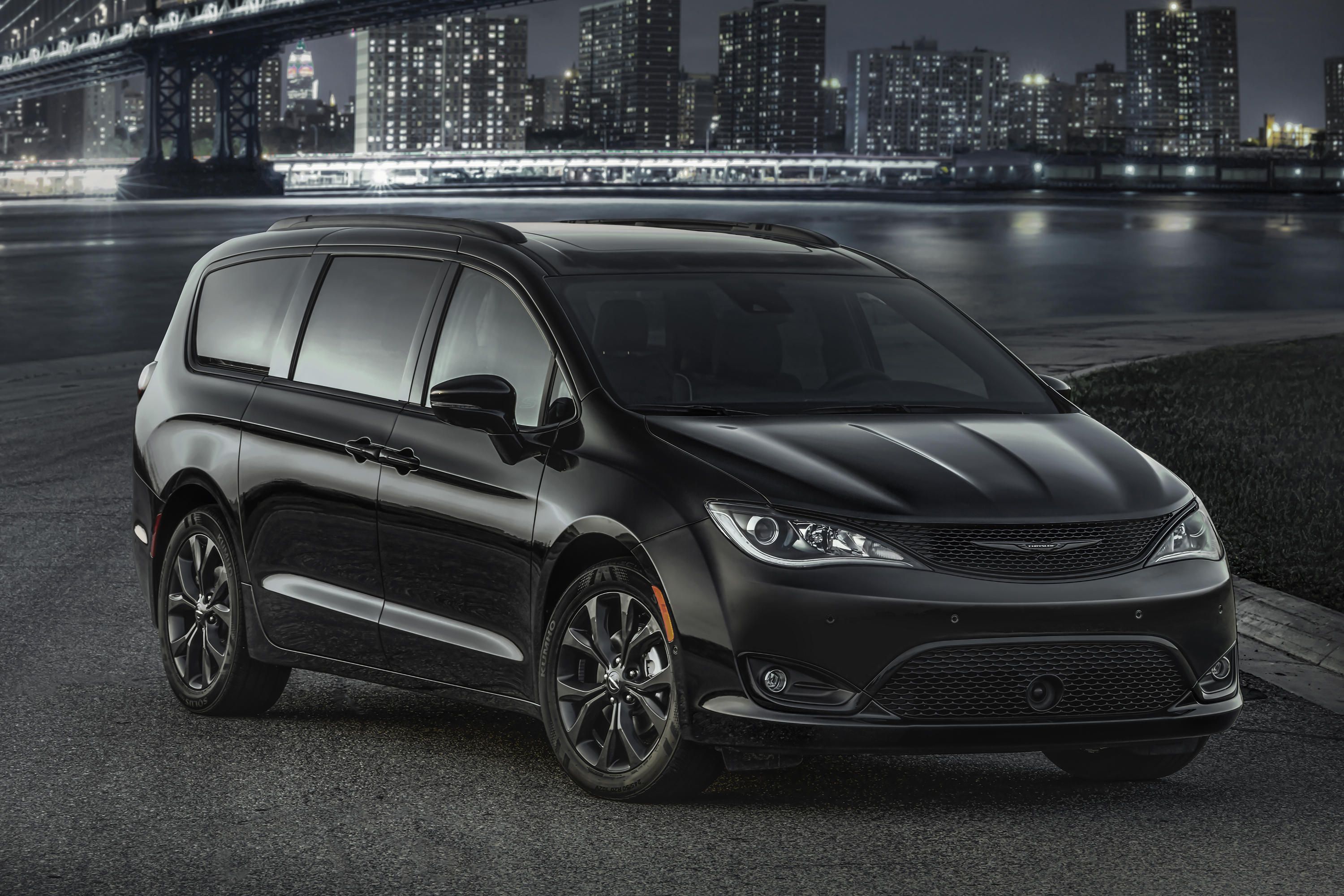 Hellfire Loose On The Strip: 2018 Dodge Challenger Demon Blazes On At Atco
Friday, October 13, 2017
Most of us here at Landmark Dodge have heard many questions asked about the new SRT Demon: this is a muscle car that has proudly used elements from the past and present to cook up one blistering bully of a snarling machine. The folks at Fox News took some time to document the fun that they had test driving it at Atco Dragway, located in the legendary Pine Barrens of New Jersey. Home to numerous sightings of the Jersey Devil, this is where they opened up the demon for a dozen action-packed runs on the track. This is an event that deserves the largest-size level of excitement that anyone could imagine: it is quite simply the most powerful American car ever made.
Under the hood is a 6.2-liter supercharged V8 that puts out 808 hp, and still manages to rank at 22 mph on the highway. This is an updated version of the Challenger SRT Hellcat's 707-hp motor, and adds the ultra-cool value of a tool-and-parts kit called the Demon Crate. By putting this to use, you can run the car on 100 octane gas, and enjoy the thrill of bumping the power up to 840 hp. Over half of the Hellcat engine's components were modified in the new version, including the block, and a 2.7-liter supercharger was salaciously strapped to the top. The Demon's 8-speed automatic transmission, driveshaft, differential, are all beefed up in this newest version as well.
Many may disappoint at the first mention of transmission details: there is currently no manual transmission available. One very important thing to note is that the automatic you DO get is one of the coolest ever constructed. It is a very specifically honed drag racing technology that engages first and second gears within the same instant, binding the transmission. This allows the racer to step on the gas to build up torque in the engine and drivetrain, without any application of the brakes. At the same time, a torque converter with a high stall speed lets you rev engine even higher than you normally could without moving an inch, as you await the telltale switch to the green light.
The project's goals for the new model involved trimming some weight during the transition from Challenger to Demon, and they successfully rid it of 232 pounds. Most already know that there is no passenger seat in the Demon, or a rear bench. You can add them in for just one measly dollar each, but the more you are gravitating towards the track, it may or may not happen! The suspension plays a very important role in the straight-line speed you can cook up immediately with the Demon. When you engage the Drag Mode, the rear shocks stiffen,and the front is softened up to help transfer the weight to the drag radials during your launch.
Because of all the extra work that was done while making sure this was one amazing drag machine, the end result is a car that can conquer the quarter-mile in 9.96 seconds, a feat that is going to be quite difficult for anyone else to rival. The writer documenting this journey claimed that "none prepared him for the violence the Demon took off with", and went so far as to call that very prominent brand of electric cars "ludicrous" in comparison. The development team completed over 500 quarter-mile runs on a single axle, and more than 900 using the same transmission.
There are 3,300 of these amazingly mean models for the U.S. And Canada, and it's a pretty safe bet they may all be spoken for. Raw power, fiercely intense engineering capacity during development and a machine that is perfectly death-defying is truly a wonder of the modern world and a tribute to the pursuit of wild-eyed adventure!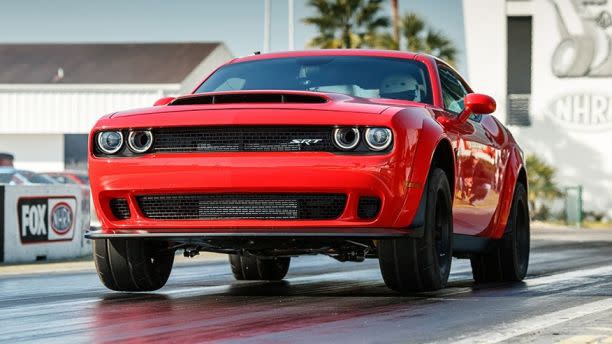 The Roar Of Autumnal Equinox: Heaps of Goodness Herald The 2018 Harvest Edition
Friday, October 6, 2017
Deep in the breadbasket of America, there are many farmers who have toiled for multiple generations, avidly studying the weather and soil patterns, and making sure that the year's offerings are as of high a quality as possible. Many early mornings, endless trudges through a pasture, and tending to different kinds of livestock are just part of the norm. Agriculture is a $74 billion industry right here in Georgia, and one in 7 residents works in agriculture, forestry, or a related field.
All of the hard-working men and women that dedicate their days to America's food supply and forests will be excited to check out the Ram Harvest Edition: it's the industry's first agricultural market-specific truck, and is available in Case IH Red, as well as New Holland Blue. Everyone here at Landmark Dodge is thrilled to be able to stock a truck that is designed specifically for the needs of those who are in the business of making sure the food supply is ample and healthy. This special edition will be available across the Ram 1500, 2500, and 3500 lineups, and in all Mega Cab, Crew, and four-door Quad configurations.
The features you'll find inside are ones that are designed to handle very hard work. A ride-height increase of one inch and very aggressive on/off-road tires are designed to help owners have confidence while navigating farm roads on the rough side, and for them to stay more comfortable while doing so. Additions such as black tubular side steps, a durable spray-in bed liner, fold-out bumper step and mud flaps, skid plates, as well as 4 x 4 tow hooks are A1 features. A cargo-view camera aids with seeing in detail just what you are hauling, and the 4G WiFi paired with Android Auto gives buyers important farming forecasts from any location nationwide.
You'll have no problem cruising through the fields of laborious demand with 17-inch chrome wheels, and you can even add an inch on top of that when it comes to Heavy Duty models. With the purchase of every new Ram truck, Certified Ag Dealers have honed in to create a very farm-specific package, with a value of around $5,300. This includes a discount on Crop Copter Ag Drone products, a valuable voucher for AgroLiquid Crop Nutrition, and a subscription to the very informative Agribible's Grower Bundle. Combining premium appearance, technology, and capability, the Harvest Edition may be perfect for your growing family, or farm. Feel free to check out this and the many other varieties of trucks on the lot here at Landmark: we've got the goods to make your mountain of busy work disappear in a hurry!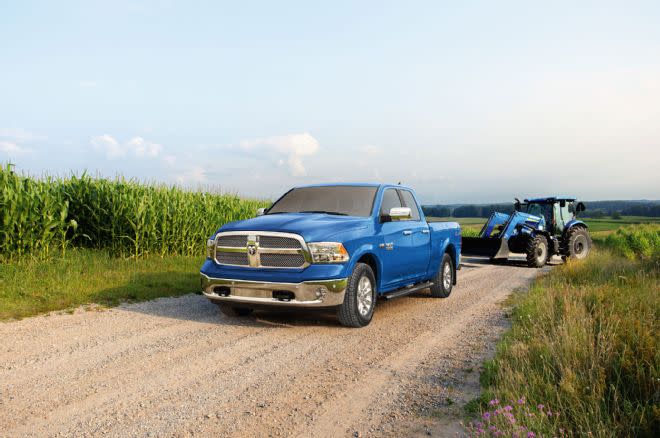 Just ask any employee here at Landmark: we've known for years that the exclusive Ram brand takes heavy-duty hauling and towing seriously. With the beginning of model-year production for 2018, the Ram 3500 will offer an industry-ruling 930-lb. - ft of torque, and the ability to tow 30,000 pounds, with use of a fifth-wheel hitch. Demanding very hard-working and long-lasting capability are two attributes very important to truck buyers, and this is where you see long-term results.
Working side by side with Cummins, the improvements made to next year's model include higher boost limits through a variable geometry turbo and flow rate increases via the superb fuel delivery system. This system enables the 6.7-Liter Inline 6 to produce an additional 30 lb-ft of torque, tipping the scales in favor of the Ram for the ruler of its class. This fifth-wheel, 30,000 lb towing uprating is made possible by the hard work of Ram Engineering, via an in-house hitch design. Much unlike the numerous competitors out there, the Ram's new hitch will allow customers to separate themselves from Class 4 and 5 trucks to haul trailers that earlier would have been capped out at around 24,000 lbs of pull.
Right here in our beloved state in Union Point, we have what is widely-known as the nation's largest off-road resort. There are 6,000 acres of adventure trails here, and they are known for catering to drivers of all skill levels. Just off of Highway 76 near Blairsville, Beasley Knob offers drivers 10.6 miles of more experienced-level trails. Steep rock hill climbs and gravel roads are all surrounded by the wondrous Chattahoochee National Forest. All of these are destinations best reached with a sturdy conqueror that has mega tow power, and all of us here at Landmark Dodge attest that the Ram is the right pick.
Since they made the choice of launching as a stand-alone division 8 years ago, the Ram Truck brand has steadily emerged as an industry leader, with trucks that are known for being durable, and haplessly going the distance. This very distinct identity that has been cultivated has allowed the brand to concentrate on retaining core customers, and target the features that are most useful. Come see why Ram has the highest percentage of pickups still active on the road, over the last three decades to boot.
It's a machine that can claim the highest owner loyalty ever of any half-ton pickup, and highest snow plow rating as well. To properly prepare for the fall season, you can look at the truck with the most interior space in existence, and get ready to own a piece of properly constructed and hard-workin' prowess!
New Laramie Longhorn Southfork Edition + New Ram Heavy Duty Lone Star Silver Texas State Fair Sighting
Wednesday, October 4, 2017
This past week in Dallas, Ram unveiled updates that are new-for-2018 to its two most popular models. The Laramie Longhorn Southfork and Heavy Duty Lone Star Silver models will now have an even wider selection of available content, and appointments for the exterior. The Laramie Longhorn is the Texas Auto Writer's Association's pick for Luxury Pickup of Texas, and is boosting its very original southwestern styling to a new level, with the Longhorn Southfork edition. Building upon the Longhorn trim with a higher dose of luxury and refinement, truck fans in Atlanta and everywhere will love the way this new offering feels.
Once you peek inside, you'll find a new Canyon Brown and Light Frost Beige Natura Plus, as well as 100-percent full-grain leather seats. Drivers will fully appreciate the feel of leather wrapped around the A and B pillar grab handles, and the new trim on the steering wheel composed of real Walnut. Newly boosted appearance elements are scattered inside of the cabin, in ways that complement the unique walnut-colored real ash wood accents, as well as ruby red stitching. Within the center stack you'll see Ram's newest technology with Uconnect 4C 8.4-inch touchscreen, which includes navigation, 4G WiFi capability, and Google Android Auto.
The Ram Heavy Duty Lone Star Silver edition is available on Ram 2500/3500 4x2, and 4 x 4 Crew Cab, with a choice of 5.7 – liter HEMI V-8, or 6.4- liter HEMI V-8. There is also the option of a renowned 6.7-liter Cummins I-6 featuring the highest available torque level, at 930 lb-ft. Ram's new Heavy Duty Lone Star Silver edition comes with quite the premium upgrade assortment, including an extravagant luxury grille surrounded by chrome and chrome Wave Mesh inserts. There are also brand new bright belt moldings, side-view mirrors with chrome exterior, chrome wheel-to-wheel side steps, and 20-inch wheels with immaculate polish.
The Ram 1500 features a link-coil suspension for the best in ride and handling, and is also available with a very high-performing four-corner air suspension system. It supports five different ride heights: off-road, normal, aero, and entry/exit. Those who are getting ready for a particularly long or demanding haul will be happy about the available choice for an optional rear air suspension system, offering two driver-selectable ride heights, and load-leveling feature. The Ram 3500 is the only truck in the industry that has a supplemental rear air bag system, incorporating Hotchkiss leaf springs.
Production for both of these trucks has already begun at the Warren, MI Truck Assembly Plant, as well as the Saltillo, MX Assembly Location. A decade and a half ago during 2002, the Ram Truck was the first manufacturer to recognize the power of the pickup truck market in the Lone Star State, and to follow through with a model that defined the flavor of Texas. The Ram Lone Star edition is by far the brand's best-selling model in Texas, accounting for over 50% of all half-tons that leave the lot. Since the Lone Star's debut, Ram has sold more than 230,000 of the models catered specifically for residents of Texas.
The Ram Laramie Longhorn is absolutely loaded inside and out with design elements from wares that have been time-tested and traditionally handcrafted, with metal and leather work of the highest class imaginable. Very unique badging, premium head and tail lamps, as well as authentic Walnut Burl inserts stained in Canyon Brown or Cattle Tan set this truck aside from many of the other urban outfitted steel movers in its class. We know Atlanta is a very modern city full of tech startups and power lunches, but we urge you to check out just how awesome this pair of canyon-crawling trucks is: It is so very easy to become rapidly fond of the desperado vibe that Dodge has so well perfected!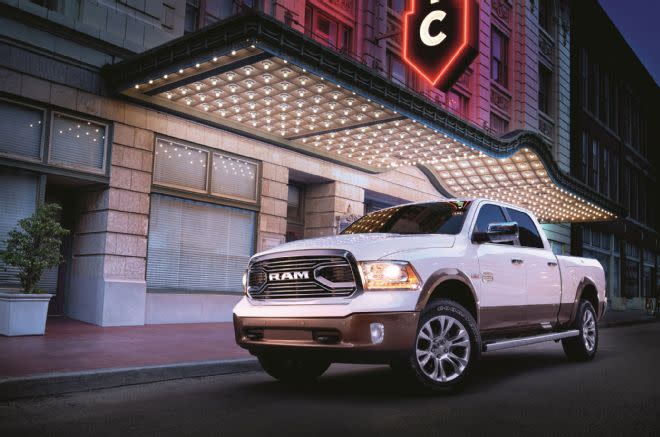 Friday, September 29, 2017
The 2018 Jeep Compass is one very exciting addition to next year's auto lineup: over-the-top 4x4 off-road capability, advanced and more fuel-efficient powertrains, premium and authentic Jeep design, as well as first-class on-road driving dynamics are all present. When customers arrive at the lot here at Landmark and ask us what is new for 2018 as far as the Jeep brand, it's our pleasure to tell them all of the attributes we love! The open road and dusty trails are the best places to take this compact crossover SUV, which made its debut during 2007.
In 2011, Jeep redesigned the Compass to allow it to more closely resemble the Grand Cherokee, while still keeping important aesthetics of its own identity. There was a better suspension added that greatly impacted handling, a revamped interior with more standard equipment, and more option packages including a Freedom Drive II Off-Road: this included a continuously variable transmission, all-terrain tires inside 17-inch aluminum wheels, and a full inch of increased ground clearance.
For the coming year, the Jeep Compass Limited models now offer 4 x 2 driveline configuration, and a premium new design with a very wide stance and standout glass-to-wheel proportions. The seven-slot grille that is pleasantly characteristic of the brand now sports a fresh approach, featuring a Gloss Black field with chrome outlines around each individual slot. Specifically designed for adventures with extreme Trail Rated thrill, the small-wide 4 x 4 architecture features 4-wheel suspension with up to 8.2 inches of wheel articulation, and ground clearance of 8.5 inches.
All North American models will be powered by the well-proven and fuel-efficient 2.4-liter MultiAir Tigershark engine, which cranks out 180 horsepower, and 175 lb.- ft of torque. As far as entertainment options, you will have a choice of 5.0 , 7.0, and 8.4- inch touchscreen sizes, and the fourth-generation Uconnect systems that provide a range of hands-free communication, entertainment, and features to help navigate. When the warmer months make their way to the Atlanta metro, you'll love the open-air dual-pane sunroof, which will allow you to catch extra rays during various stages of your commute.
Come ask us about the Selec-Terrain feature in the new Compass: it provides up to five modes for the best 4-wheel-drive performance in any type of weather condition. You can pick auto, snow, sand, and mud modes to assure that you have the best traction and handling possible. If you opt for the Trailhawk model, you gain Rock Mode: an intense and hyper-equipped crawling capability that will boost the fun and excitement level drastically on your next off-road destination. This powerful and well-equipped new ride comes in 11 different exterior colors, and is built on more than 75 years of legendary heritage: come see which adventure-filled longitude or latitude the brand new Compass will steer you towards today!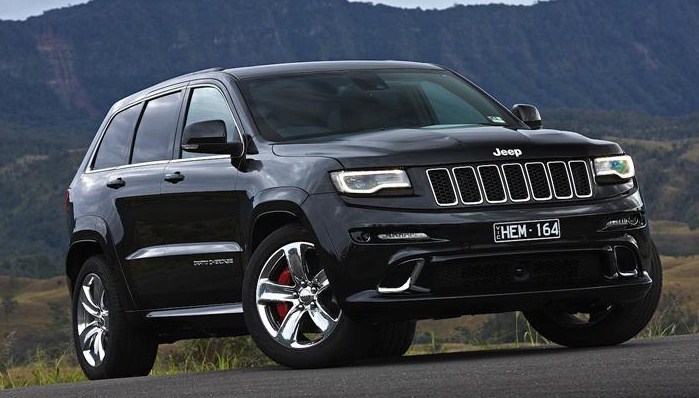 Friday, September 29, 2017
When an auto gleans an award for seven years straight, it is a very evident and powerful inkling that they are doing something right. This year, the Jeep Grand Cherokee won AutoPacific's Ideal Vehicle Award once again for the Mid-Size SUV segment, based on 65,000 responses from a national survey. AutoPacific's Ideal Vehicle Awards measure the changes that owners would like to see in their newly-purchased vehicles. Surveyed after 3 months of ownership, respondents were asked about what type of changes they would like made in development. The Chrysler Pacifica also kept major headway against the competition, coming in strong as the most awarded minivan of this year and 2016 as well.
Current owners of the 2017 Jeep Grand Cherokee and Chrysler Pacifica indicated as a whole that they are driving a vehicle that either met or exceeded their expectations. As the original manufacturer of the minivan 3 decades ago, FCA US truly heralded the category with firsts: they had 78 true innovations through the first five minivan generations. They also have the claim to the industry's first minivan available as a plug-in hybrid, and strive to closely meet the expectations of every single buyer. This feat really shows that Chrysler designers, planners, and engineers understand minivans best, and the 2017 model brought a new level of functionality, versatility, new technology, and sensational styling to the genre.
Completely re-engineered from the ground up using an all-new platform, the Pacifica marks delivery of class-leading gasoline and hybrid powertrains to the car category. With more than 100 available safety and security features, a large offering of technologies needed for comfort, and Uconnect Theater rear seat entertainment system, it has really etched its namesake solidly as a true pioneer in its class.
We heartily recognize that the 2017 Jeep Grand Cherokee possesses very legendary capability, craftsmanship that is world-class, and safety features that any with very loved ones in tow would deem satisfactory. Four different 4x4 systems, the high-performing Selec-Terrain traction management system, and Quadra-Lift air suspension system are a few other great features, as well as a highly-impressive crawl ration of 44.1:1.
AutoPacific is a provider of marketing research and product-consulting firm that publishes yearly syndicated studies on the automotive industry. Founded in 1986, they have long been known for their very extensive proprietary research, and forecasting what will happen next in the areas of supply and distribution. They have a state-of-the-art automotive research facility in California, and an affiliate office in the Michigan Motor City. When various customers come in to Landmark and ask us which vehicles would be best for their needs, we love steering them towards ones that have held such high accolade: come check out just how useful and innovative these two are!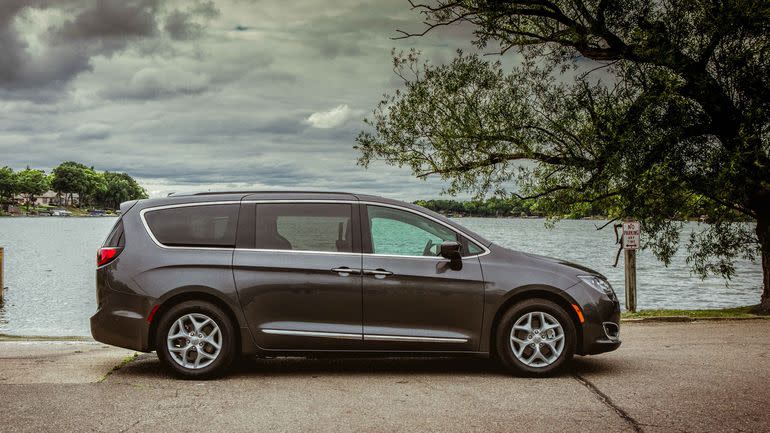 Sales Hours
770-824-9834
| | |
| --- | --- |
| Monday | 9:00 am - 9:00 pm |
| Tuesday | 9:00 am - 9:00 pm |
| Wednesday | 9:00 am - 9:00 pm |
| Thursday | 9:00 am - 9:00 pm |
| Friday | 9:00 am - 9:00 pm |
| Saturday | 9:00 am - 9:00 pm |
| Sunday | 11:00 am - 6:00 pm |
Service Hours
770-824-9864
| | |
| --- | --- |
| Monday | 7:00 am - 7:00 pm |
| Tuesday | 7:00 am - 7:00 pm |
| Wednesday | 7:00 am - 7:00 pm |
| Thursday | 7:00 am - 7:00 pm |
| Friday | 7:00 am - 7:00 pm |
| Saturday | 7:00 am - 6:00 pm |
| Sunday | Closed |
Parts Hours
770-824-9793
| | |
| --- | --- |
| Monday | 7:00 am - 7:00 pm |
| Tuesday | 7:00 am - 7:00 pm |
| Wednesday | 7:00 am - 7:00 pm |
| Thursday | 7:00 am - 7:00 pm |
| Friday | 7:00 am - 7:00 pm |
| Saturday | 7:00 am - 6:00 pm |
| Sunday | Closed |